The holy grail of summer shoes
Review by Joanna on 26 May 2019
review stating The holy grail of summer shoes
My wide feet with high arches have finally gotten treated nicely by a shoe company! I immediately wore these the day they arrived to a concert and have never felt more comfortable while dancing for hours. With wide feet, you get what you pay for in shoes. This was so worth the investment. The 9.5 fits true to size. Size up a half size if you want more toe room up front.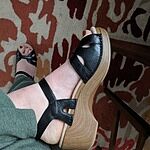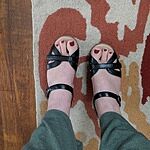 Very comfortable. It did not
Review by Linda on 13 Dec 2019
review stating Very comfortable. It did not
Very comfortable. It did not disappoint.
Cute and functional!
Review by Mary on 29 Sep 2019
review stating Cute and functional!
I adore these Dansko shoes! They are cute as can be AND I can wear them ALL day! (Which I do! I put them on at 7am and they don't come off until 9pm!) I suffer from plantar fasciitis, so I must be careful to wear the most supportive shoes I can find. These shoes fit the bill! I do not have foot pain when I wear Dansko shoes! I can even run and play with my kids in these shoes because they are just that awesome!
Love this style
Review by Paula on 29 Sep 2019
review stating Love this style
This sandal has a great look, the top of the shoe and the back adjust easily with hidden Velcro, and the arch support is wonderful! I have this in several colors and is my go-to shoe with a dress or slacks.
Comfort and Style
Review by Brandie on 15 Sep 2019
review stating Comfort and Style
The perfect spring through fall shoe. Comfortable for all day wear. I wear these for 8 long hours, standing at work. I love them!