LOVE LOVE LOVE them
Review by Stephanie on 26 Feb 2019
review stating LOVE LOVE LOVE them
I am in serious love with these shoes. It is difficult to find cute shoes with larger feet and these in a 43 wide fit me perfectly. I can wear them all day and my feet still feel good at the end of the day. None of that, "ahhh" feeling when I take them off. Instead, my feet feel energized. Wish they had other colors in the 43 wide as I would buy more!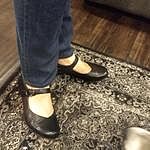 Supremely comfortable
Review by Christine on 22 Oct 2019
review stating Supremely comfortable
I have to say that these are among the most comfortable shoes I have EVER worn! I bought the navy (a hard to find color option in footwear) and from the moment I slipped them on my feet I was happy! I own many Dansko clogs and other Mary Jane styles and they are always comfortable. But, somehow, the foot bed cushions and supports even the sides of my feet better than any shoe from any brand I can remember. Can be on my feet for over 12 hours and they feel like I just put them on--leave no "shoe marks" on my feet. Loved them so much I ordered the brown as well.
Long days
Review by Susan on 7 Oct 2019
review stating Long days
These shoes have proved again to be worth their weight in gold. I had purchased 10 years ago and wore them twice a week all these years for long days and felt like I should refresh with a new pair. I have not been sorry.
Great
Review by Katherine on 16 Aug 2019
review stating Great
I already have one in black nappa. The Fawna is really comfortable and light weight at the same time. I can stretch them out easily in the front with my toes for the best fit.

This one is calf, so it have a bit extra support, which is nice.

The only thing is that the navy looks black. Please sell a noticeably dark blue fawna.
Fawna
Review by Cathy on 22 Jul 2019
review stating Fawna
Love this shoe. Comfortable, versatile. Get many compliments on it too. I have it in black and navy.